Our all-inclusive deer hunting lodge keeps you comfortable and connected.
Ohio Deer Hunting Lodge
All-inclusive Whitetail Deer Hunting Lodge. Your hunt will be all-inclusive, which means everything is covered including all meals, beverages, lodging, and meat processing. There are never any hidden fees. Best of all, we give you the opportunity to harvest the dear you've always dreamed of, whether it's a 250″ trophy buck or a 450″ monster.
The Main Hunting Lodge Room Is The Place Where We Share Stories and Laughs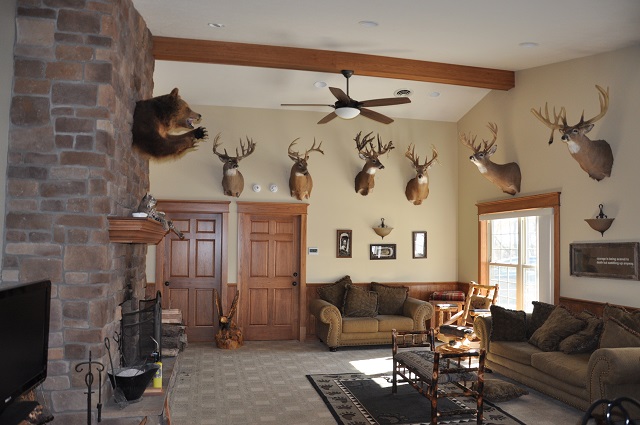 Inside Our Ohio Deer Hunting Lodge
From the moment you walk inside our deer hunting lodge, you will see that we spared no expense in making it the premier hunting facility in Ohio. From the antlers that hang on the wall of our large communal area, to the handcrafted locally made wood furniture, every effort went into creating an atmosphere where you feel right at home.

The main lodge room is the place where we share stories and laughs, and where our crew gets to know you and your family or group. Still, making a home is more than just four walls and what you hang on them, and that's why we make you a part of our family and involve you in the finer details of our operation. In this way we get to know one another, and we make friendships that stand the test of time.

All-Inclusive Means All Meals are Prepared
Every meal we make is prepared fresh. We tend to lean toward more southern-style dishes because a day of hunting can leave you hungry and it's nice to eat a meal that sticks to your ribs.
We will also cater to any dietary restrictions or allergies you may have, but we request that you let us know before your arrival so that we can prepare.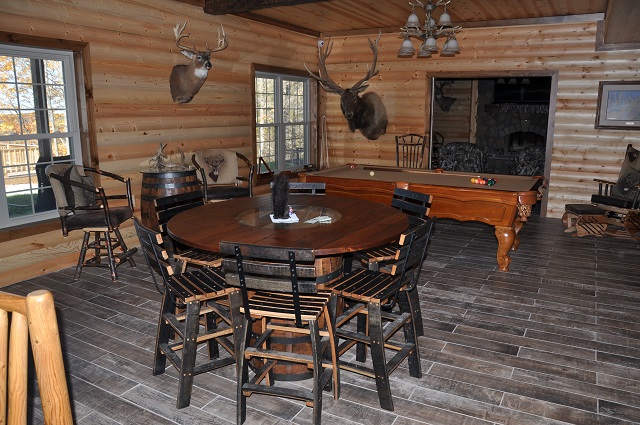 Other Places in the Hunting Lodge
Sometimes you want a little time to be alone, have a private one-on-one conversation, or talk to family back home. You will find six smaller rooms within the lodge, each with its own big screen television and fireplace.
Our spacious deck overlooks our famed hunting grounds, from a cliff-side overhang with sprawling views of rolling woodlands. This is a place to enjoy a sunset, sip on a beverage, or just enjoy a cool breeze.
Your bedroom will have a comfortable bed, it's own television, and private bath. From anywhere in the lodge you will also have Wifi access, and if there is anything else you need we will do anything we can to make it happen.

12 hunters
9 Bedrooms
6 Bathrooms
In your free moments you can also enjoy the following amenities: Pool Tables • Games • Card Tables • Selection of Books • Television • Popcorn Machines
Trophy Bucks Right Out Our Back Door
Ready to Bag Your Own Trophy Whitetail Deer?