Trophy Bucks Right Out Our Back Door
Ohio Deer Hunting Lodge
All-inclusive Whitetail Deer Hunting Lodge. Your hunt will be all-inclusive, which means everything is covered including all meals, beverages, lodging, and meat processing. There are never any hidden fees, and we always err on the side of our clients. Best of all, we give you the opportunity to harvest the dear you've always dreamed of, whether it's a 250″ trophy buck or a 450″ monster.
The Main Hunting Lodge Room Is The Place Where We Share Stories and Laughs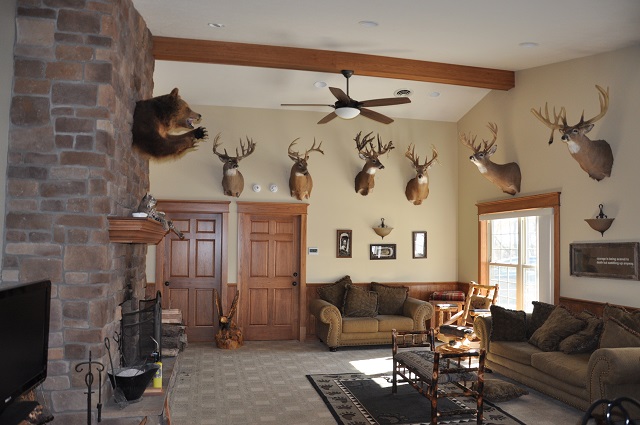 Inside Our Ohio Deer Hunting Lodge
From the moment you walk inside our deer hunting lodge, you will see that we spared no expense in making it the premier hunting facility in Ohio. From the antlers that hang on the wall of our large communal area, to the handcrafted locally made wood furniture, every effort went into creating an atmosphere where you feel right at home.

The main lodge room is the place where we share stories and laughs, and where our crew gets to know you and your family or group. Still, making a home is more than just four walls and what you hang on them, and that's why we make you a part of our family and involve you in the finer details of our operation. In this way we get to know one another, and we make friendships that stand the test of time.

All-Inclusive Means All Meals are Prepared
Every meal we make is prepared fresh. We tend to lean toward more southern-style dishes because a day of hunting can leave you hungry and it's nice to eat a meal that sticks to your ribs.
We will also cater to any dietary restrictions or allergies you may have, but we request that you let us know before your arrival so that we can prepare.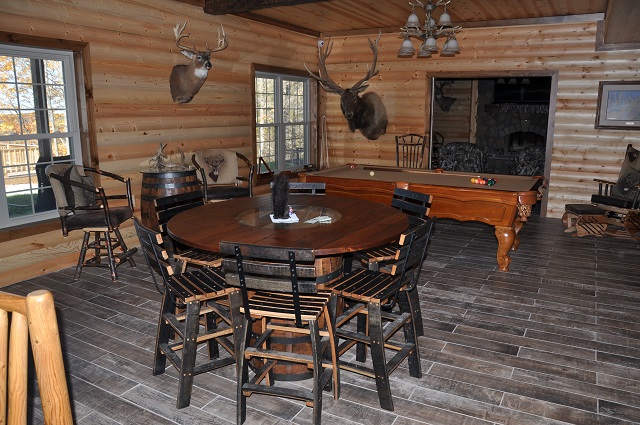 Other Places in the Hunting Lodge
Sometimes you want a little time to be alone, have a private one-on-one conversation, or talk to family back home. You will find six smaller rooms within the lodge, each with its own big screen television and fireplace.
Our spacious deck overlooks our famed hunting grounds, from a cliff-side overhang with sprawling views of rolling woodlands. This is a place to enjoy a sunset, sip on a beverage, or just enjoy a cool breeze.
Your bedroom will have a comfortable bed, it's own television, and private bath. From anywhere in the lodge you will also have Wifi access, and if there is anything else you need we will do anything we can to make it happen.

In your free moments you can also enjoy the following amenities: Pool Tables • Games • Card Tables • Selection of Books • Television • Popcorn Machines
Ohio Whitetail Deer Hunting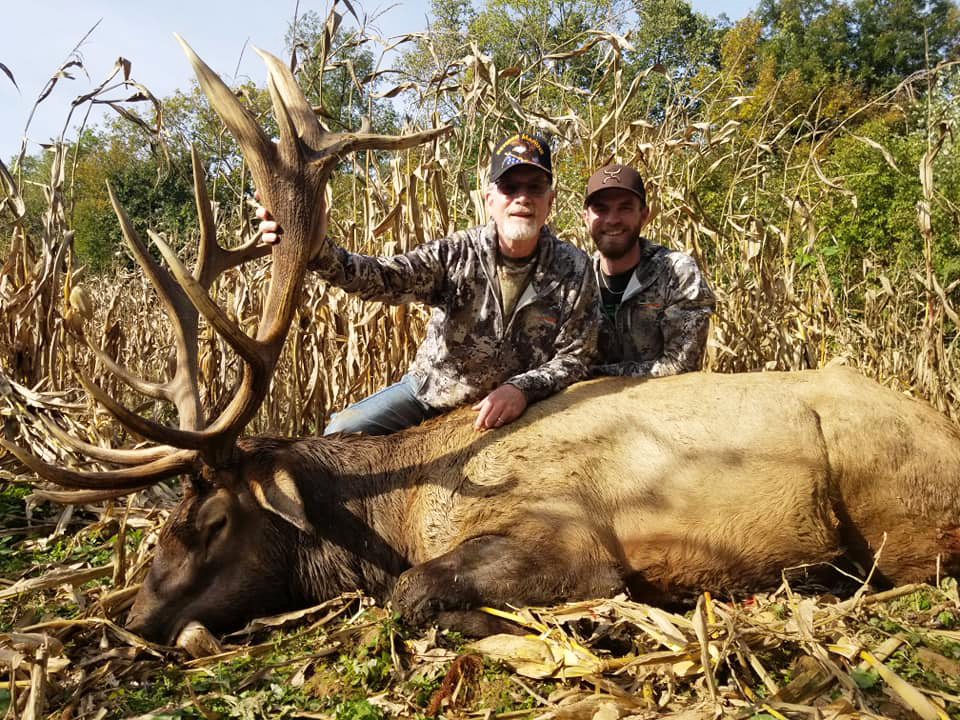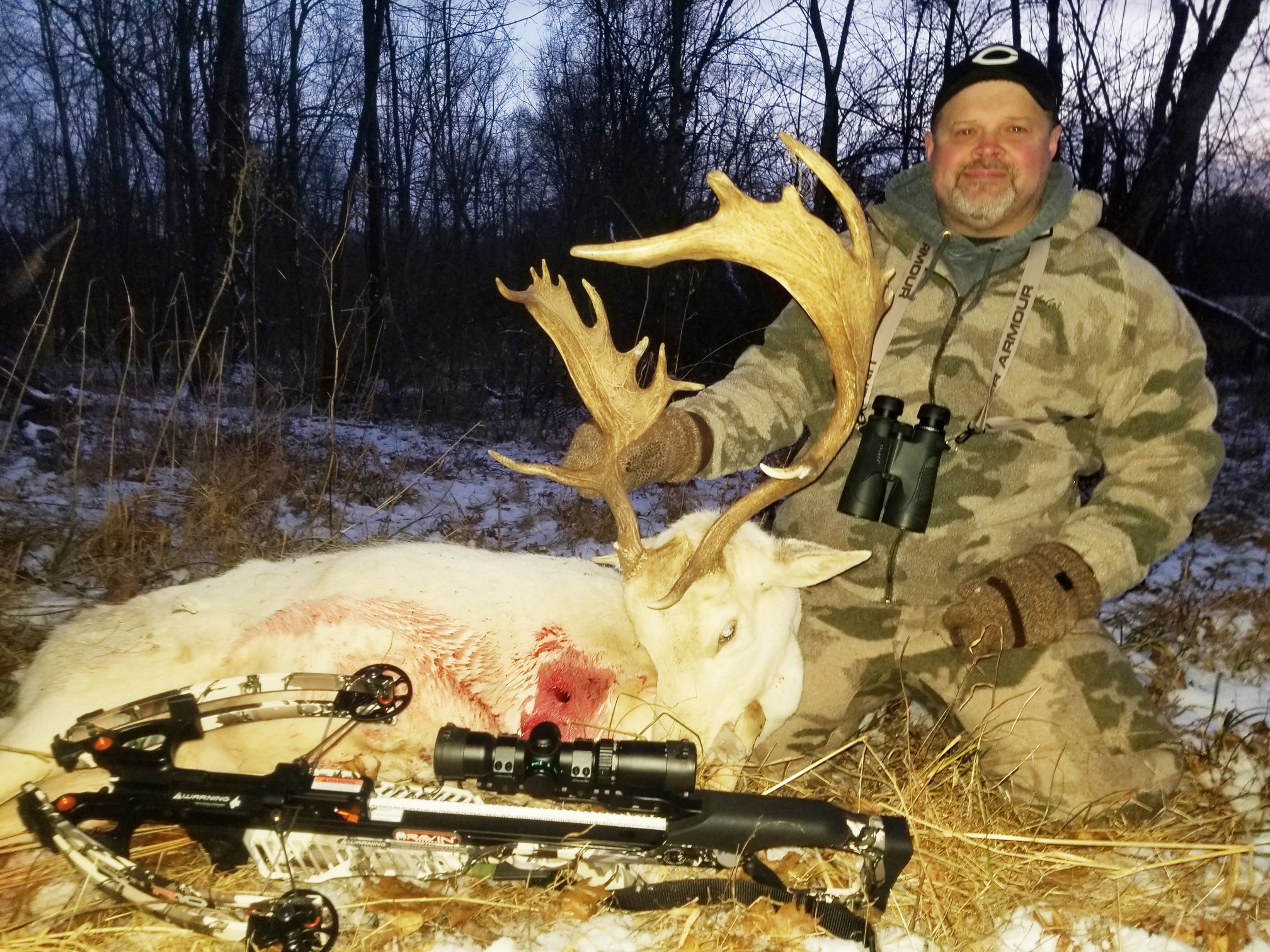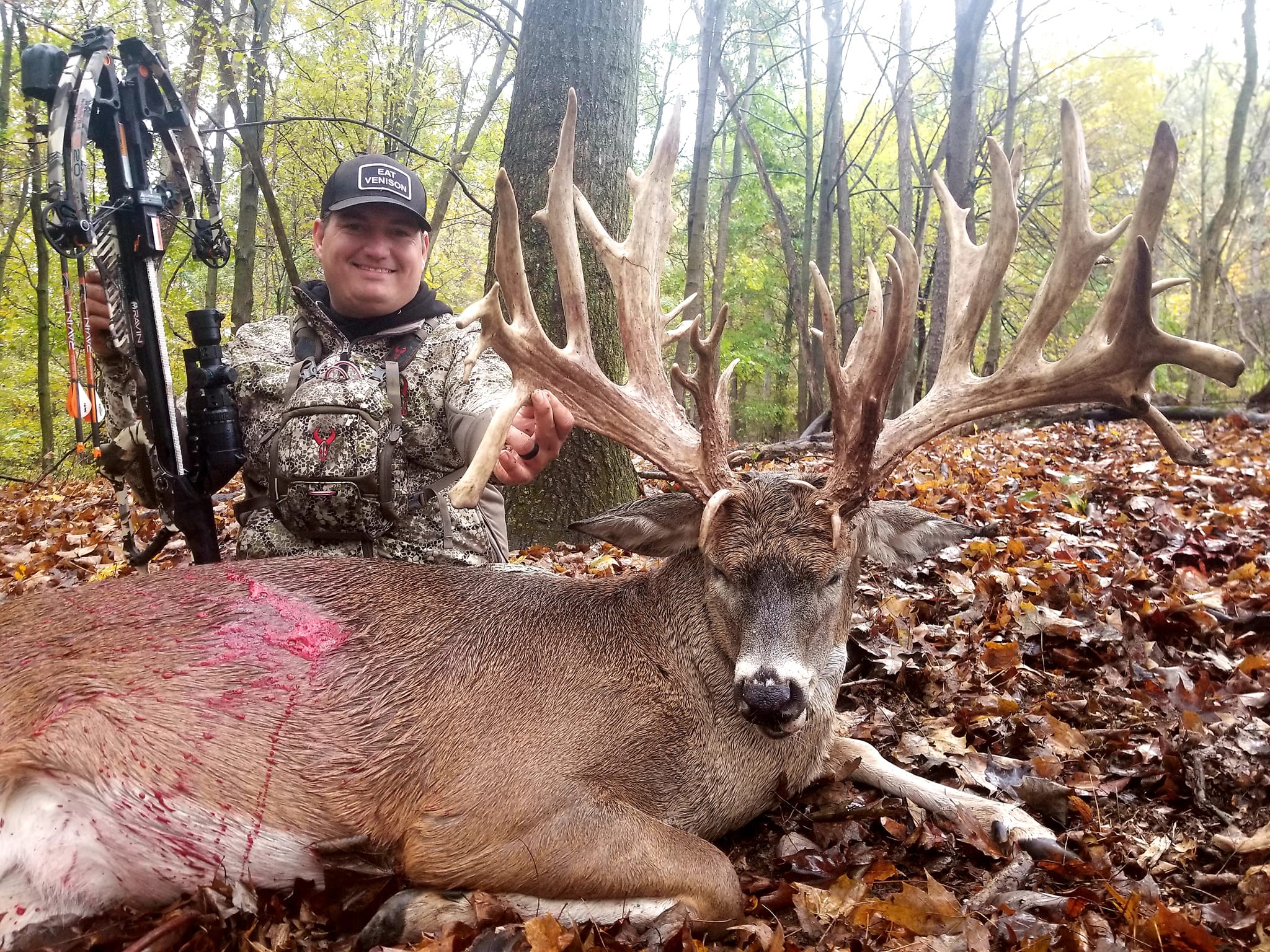 Fully Guided Trophy Buck Hunts
What does it take to harvest the whitetail deer you've always dreamed of? You need to hunt with professionals that keep their promises and understand that you have expectations whenever you spend your hard-earned dollars for a guided hunting trip.
It also requires deer living on open pasture woodlands with plenty of food plot. Here at Dominant buck outfitters in Ohio, we offer fully customizable all-inclusive hunting adventures for people that are serious about experiencing the hunting trip of a lifetime. Our bucks grow big, and we put you in position to take the animal you want, with no pressure and no hidden charges.
Then we back up our claims with a NO KILL = NO PAY policy that shows how confident we are that you will harvest the whitetail you've spent your life searching for. From our upscale lodge to our heated stands, you will find the perfect combination of comfort and rugged outdoor adventure.
Ready to Bag Your Own Trophy Whitetail Deer?
We've hosted a number of people that have been disappointed with previous guided whitetail hunting trips. There are a variety of reasons a hunter may end up underwhelmed by a hunting lodge or with a particular guide, so we made it our mission to address those issues while being the best at what we do.
A lot of different factors go into a great whitetail hunting trip, but it always starts with the quality of the animals. Join us at Dominant Buck Outfitters and find out why people travel from all over the country to set their sights on our massive whitetail bucks.
Best Deer Hunt in Ohio
Located in the heart of Ohio's whitetail deer country, Dominant Buck Outfitters is a family owned and operated business that specializes in trophy whitetail deer, big buck hunts, world class hunting, and monster bucks going down. If you are looking for an opportunity to see and hunt big bucks, trophy deer, and find out why we are Ohio's best kept secret then Dominant Buck Outfitters is the Ohio hunting preserve for you!
Our remote Ohio hunting location and attention to hunt detail, combined with some of the largest whitetail deer you will ever see, is what keeps our big buck clients coming back year after year.
Deer Hunt Specials For Wounded Warriors, Military, and More.
We offer discounts to the men and women who fight for our freedom Wounded Warriors and those in the Armed Services get 10% off their all-inclusive whitetail hunting trip.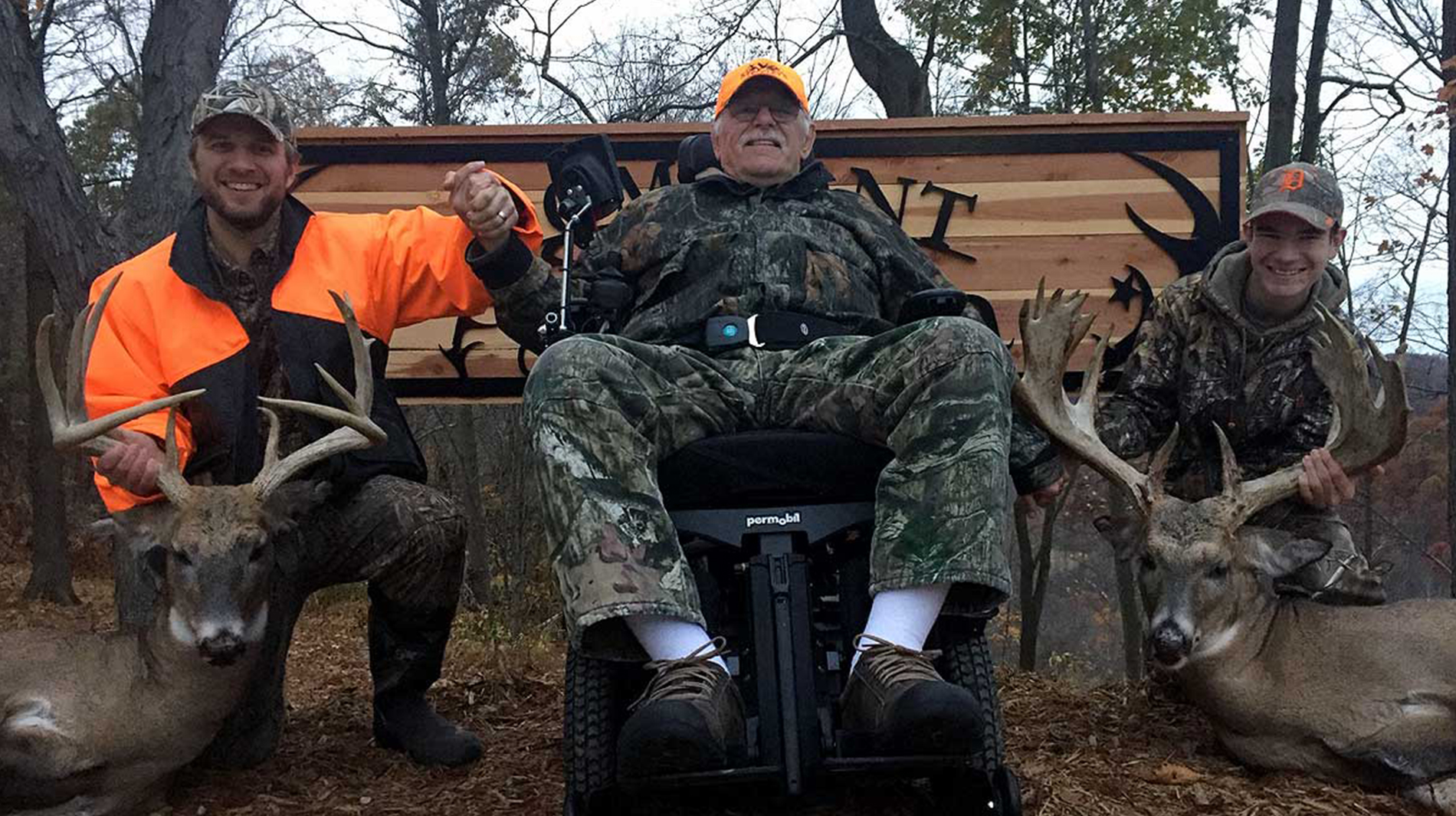 50">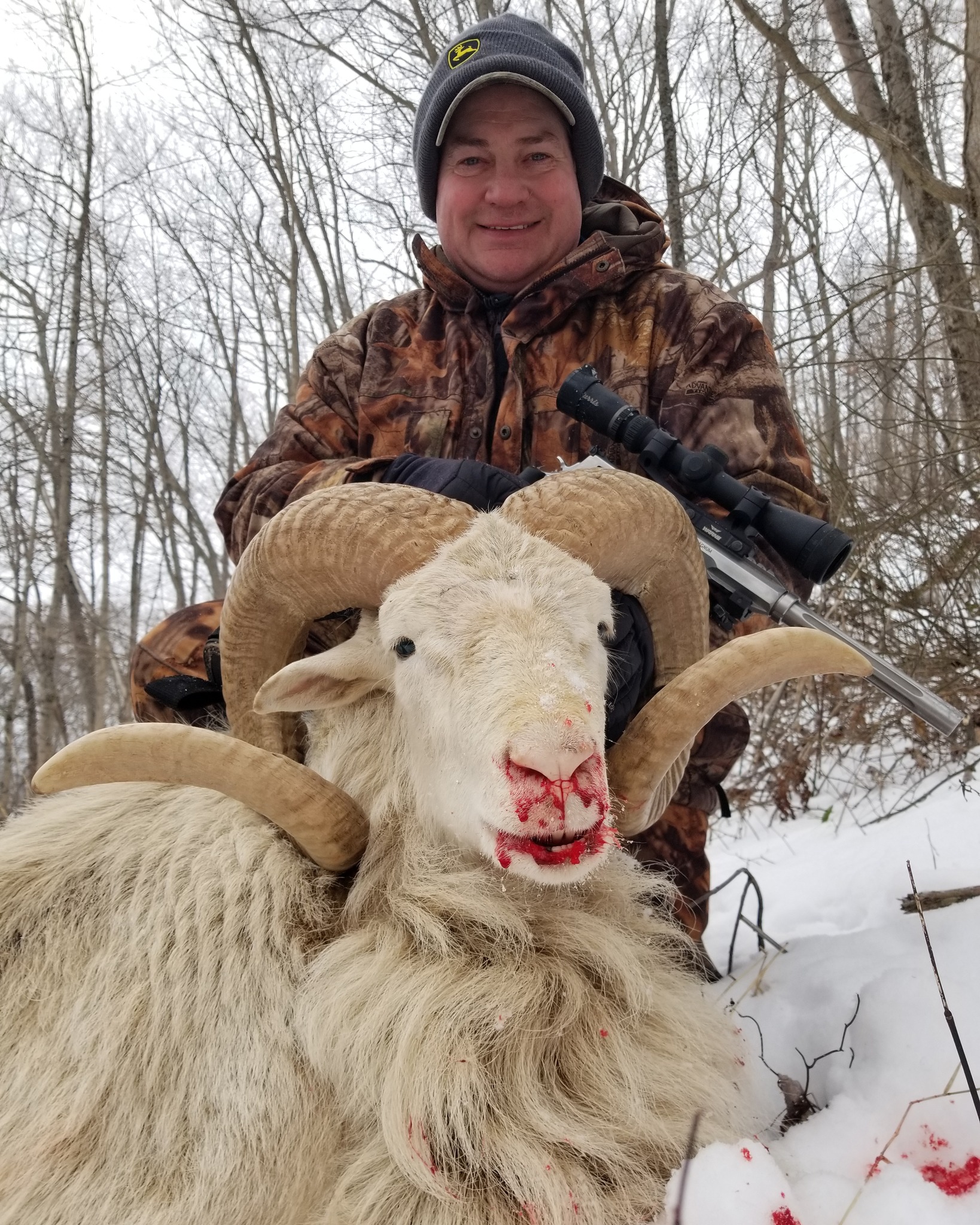 Discounts for Active Military and NRA Members
We firmly believe in putting our money where our mouth is, and as proud National Rifle Association members with a deep appreciation for our troops, we readily offer discounts to both. Active military will get 10% off of any trophy whitetail hunting trip, and we give 5% discounts to anyone who is an current member of the NRA.
Whitetail Hunting for Wounded Warriors
If you're a wounded warrior, you are always welcome to take advantage of our 10% discount on any hunting package. However, we put a lot more thought into our wounded veterans than simply reducing our fee. Many facets of our hunting lodge were designed and built with the needs of wounded warriors in mind, and we are proud of what we've put together.
We assembled an assortment of tree stands, two of which are 10'x20′ in size. These heated tree stands cater to anyone's needs, and ensure maximum comfort whether you hunt with bow or rifle. We also use Redneck Hunting Blinds – a name that's synonymous with quality.
Your guide will ensure that you have every chance to succeed, and our NO KILL = NO PAY policy guarantees you won't go home disappointed. If you have any other special needs, either in the field or at our lodge, don't hesitate to let us know. Our goal is to show our appreciation through everything we do at Dominant Buck Outfitters.
Your Comfort
By catering to all hunters, no matter their skill level or personal limitations, and recognizing that everyone needs personalized attention and care, we ensure that you are always comfortable and given the tools you need to succeed.
Your hunting lodge accommodations will exceed all expectations, as we have developed a true home-away-from-home for even the most discerning tastes. Everything is included in your whitetail deer hunting package including home-cooked meals, beverages, lodging, guide, and processing of all meat.
Once you're in the field, you can choose from a variety of custom built deerstands, up to 10'x20′ in size and heated. If you have practical limitations, we will make sure that you get the care and assistance you need to put yourself in the best position for success, and your guide will stay with you at all times on every whitetail deer hunt at Dominant Buck Outfitters.
Ready to Bag Your Own Trophy Whitetail Deer?